We invest in our own talent every single day
Our mission is simple, "To spread the power of technology by connecting the professionals within."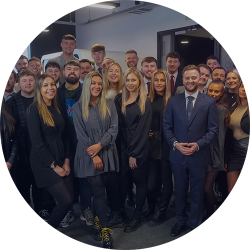 At ITECCO, we are dedicated to achieving the goals we set as a team with a clear, shared purpose. We adapt to our clients' changing needs as well as changes in the market, to make sure we are a business of growth, success and happiness.
By growing organically, we have fostered an environment where each consultant cares passionately about their markets and developing successful, long-term relationships with their clients, which has enabled us to build on a team of highly knowledgeable and strongly motivated recruiters.
ITECCO's thorough understanding of individual aspirations, technical requirements and corporate culture has positioned us as a market leader in bringing people and businesses together.
Who we are is at the core of our values

Positivity
We aspire to maintain a positive attitude by always expecting the best possible outcome in every situation. We exhibit a can-do attitude in our work every day when we interact with our colleagues and clients. We encourage good ideas, whether it is from the newest graduate or the CEO.

Opportunity
We pride ourselves on the opportunities we can deliver. The key to ITECCO's growth is our commitment to supporting new and existing employees by creating opportunities within a thriving and enjoyable workplace. We are committed to continuous improvement and never settle.

Security
We are focused on enabling individual success and take personal responsibility for the job security of our employees and the candidates we place. We get excited by new things and escaping our comfort zone. But ensure we are making the right decisions with every action.

Energy
We don't wait to be told; we just do. We each get an A for effort, giving everything we can every time. We choose to create a positive work environment every day, helping each other through the tough times with a smile. We know that our passion, commitment and energy make ITECCO different and ultimately drives our success.
​Having worked with a number of agencies over the years, I can't recommend ITECCO enough. Recruiting in the education sector has hit hurdles, and these are even more challenging when looking for contractors - especially when you need them to start yesterday. ITECCO understood our requirements quickly, finding candidates of high quality. They regularly checked in to review any new appointments and when action needed taking, it was always dealt with professionally.
Cognita Schools
ITECCO have been helping us fill a position at our company. I wanted to highlight ITECCO's superb service throughout. They have always been on call, provided excellent options and been a great help with our search. When the time comes that we are looking to recruit again, I'll be sure to reach out - Jason, Director, Airbnb
Airbnb
​ITECCO gave me a strong choice of candidates within the deadlines I had, enabling a smooth transition for university. It has been a pleasure working with you and all at ITECCO and I look forward to continuing to do so.
University of Cambridge
​ITECCO are always helpful and proactive, working quickly but efficiently to cater to our recruitment needs. They have provided invaluable support to us whenever we've needed a vacancy filling, presenting us with good quality candidates. I will continue to use them for future staffing requirements and would highly recommend their services.
Just Eat
The recruitment industry is difficult and there is often a hard push on the client and many times, as a client you don't feel the recruiter always understands what you need, due to their pressures. ITECCO do which makes them stand out, they're very much in tune with what people need. They listen to the needs and issues of their clients, which is key. I couldn't recommend them enough and they are a refreshing change.​
Lad Bible Group

We are the experts in the Technology Recruitment sector, and you'll be working with some of the world's largest organisations.
We offer resource solutions from IT entry-level to mid/senior management and board level on single or multiple assignments. Our service is contingency-based and operates in the provision of contract and permanent personnel across all industry sectors.
What makes us special is the team around us.
We have created a family-like culture whereby each employee genuinely cares for one another and invests in each other's success as well as their own.
Many things push us to do our best work and be even better every day.
If you share them, you'll fit right in.